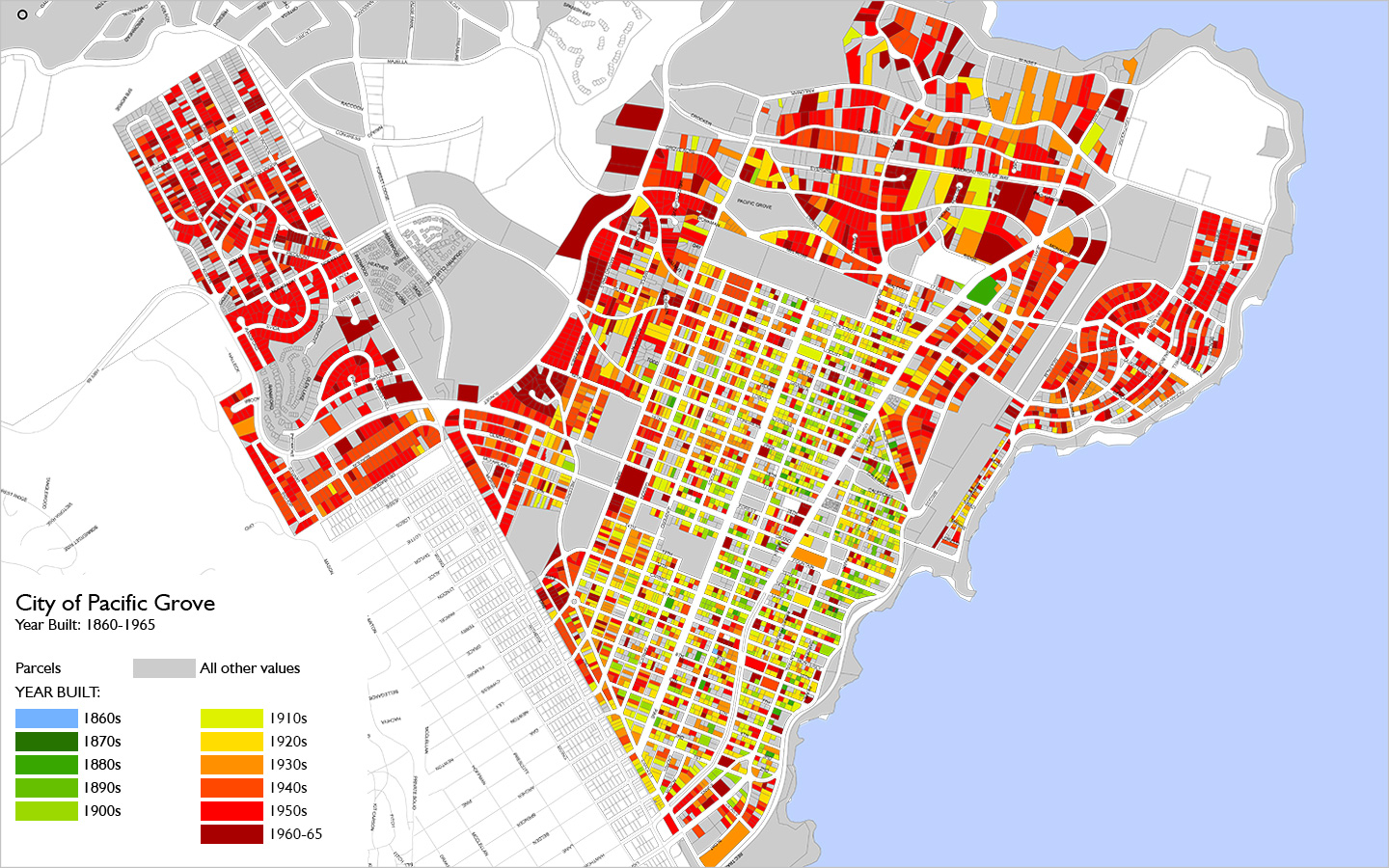 Planning & Research
Page & Turnbull's Cultural Resources and Planning Studio analyzes an extraordinary mixture of properties. Our historians, architectural historians, and preservation planners are able to determine whether a property is historically significant and what makes it so. Following the Secretary of the Interior's Standards and relevant Guidelines, our staff makes determinations of significance, identifies character-defining features, and develops recommendations informed by the Secretary of the Interior's Standards for the Treatment of Historic Properties or Treatment of Cultural Landscapes directives. Our positive relationship with California's Office of Historic Preservation and other local, state, and federal agencies enables us to work effectively through compliance and approvals processes.
Historic Research
Every day we conduct historic research, learning more about buildings, sites, and structures across the country. We tap into many archives for text, images, and drawings about a property and compile that data into easy-to-read, actionable reports.
Preservation Planning for Cultural Resources
Our preservation planning services extend from single site evaluations to city-wide surveys. Beyond the surveys, we write historic context statements and develop district master plans, historic preservation plans, and design guidelines. We have added countless buildings and sites to local and state registers, and to the National Register of Historic Places. Survey efforts require multiple formats, and we have even developed new methods for evaluating intangible cultural heritage in a neighborhood or district.
Tax Credits, Section 106 & CEQA Compliance
Navigating public agency requirements for design, construction, and rehabilitation often requires a helping hand. Page & Turnbull has successfully guided multiple projects through complicated public review and building entitlement processes. We have helped projects receive federal tax credits and/or state tax credits, taking the client through consultation, application, and reviews. We are regularly involved in compliance reviews mandated by the California Environmental Quality Act (CEQA), or Sections 106 and 110 of the National Historic Preservation Act. We are well prepared to meet any challenge involved in these processes because, quite often, it is something we have encountered before.
Awards
Charleston Preservation Plan
National Preservation Honor Award, National Trust for Historic Preservation
Raised Streets, Hollow Sidewalks Survey, Sacramento, CA
Project of Year Award for Historic Restoration/Preservation, American Public Works Association
City of Benicia Historic Context Statement, Benicia, CA
California Preservation Foundation Preservation Design Award, Cultural Resource Studies / Reports Category
Featured Projects
West Hollywood Financial Incentives for Rehabilitation – on the boards
West Hollywood Design Guidelines – on the boards
City of Charleston Historic Preservation Plan Update
Pacific Grove, CA Survey and Historic Context Statements
Stanford Linear Accelerator Center Section 106 Review
Downtown Napa, CA Design Guidelines
Ghirardelli Square, San Francisco, CA Entitlements
Survey LA Pilot Surveys
McClellan Business Park, Sacramento, CA Section 106 Review and Design Guidelines
Fairmont Hotel, San Francisco, CA 20% federal rehabilitation tax credits
Hobart Building, San Francisco, CA Historic Structure Report
ACT Strand Theater, San Francisco, CA Historic Resource Evaluation
Mid-Market Signage Guidelines, San Francisco, CA

Services Offered

Design Consultation
Historic Resource Consultation Memos
Historic Resource Surveys
Preservation and Maintenance Plans
Community and Master Plans
Cultural Landscape Reports (CLR)
Peer Reviews
Historic American Buildings Surveys (HABS)
Historic American Landscapes Surveys (HALS)
Historic American Engineering Record (HAER)
Historic Resource Evaluations (HRE)
Historic Structure Reports (HSR)
National Register of Historic Places Nominations/Consultation
CA Dept. Parks & Recreation DPR Forms
Historic Context Statements
Design Guidelines
Preparation of Certificates of Appropriateness
Section 106 Consultation
California Environmental Quality Act (CEQA) Compliance Evaluation
Historic Resource Technical Reports
Due Diligence Reports
Mills Act (State Tax Credit) Application/Consultation
Federal Rehabilitation Tax Credit Application/Consultation
City and County of San Francisco Supplemental Information Forms
Interpretive Displays
Institutional Information Management
Feasibility Studies
Regulatory Permitting and Compliance
Project review under Secretary of the Interior's Standards for the Treatment of Historic Properties