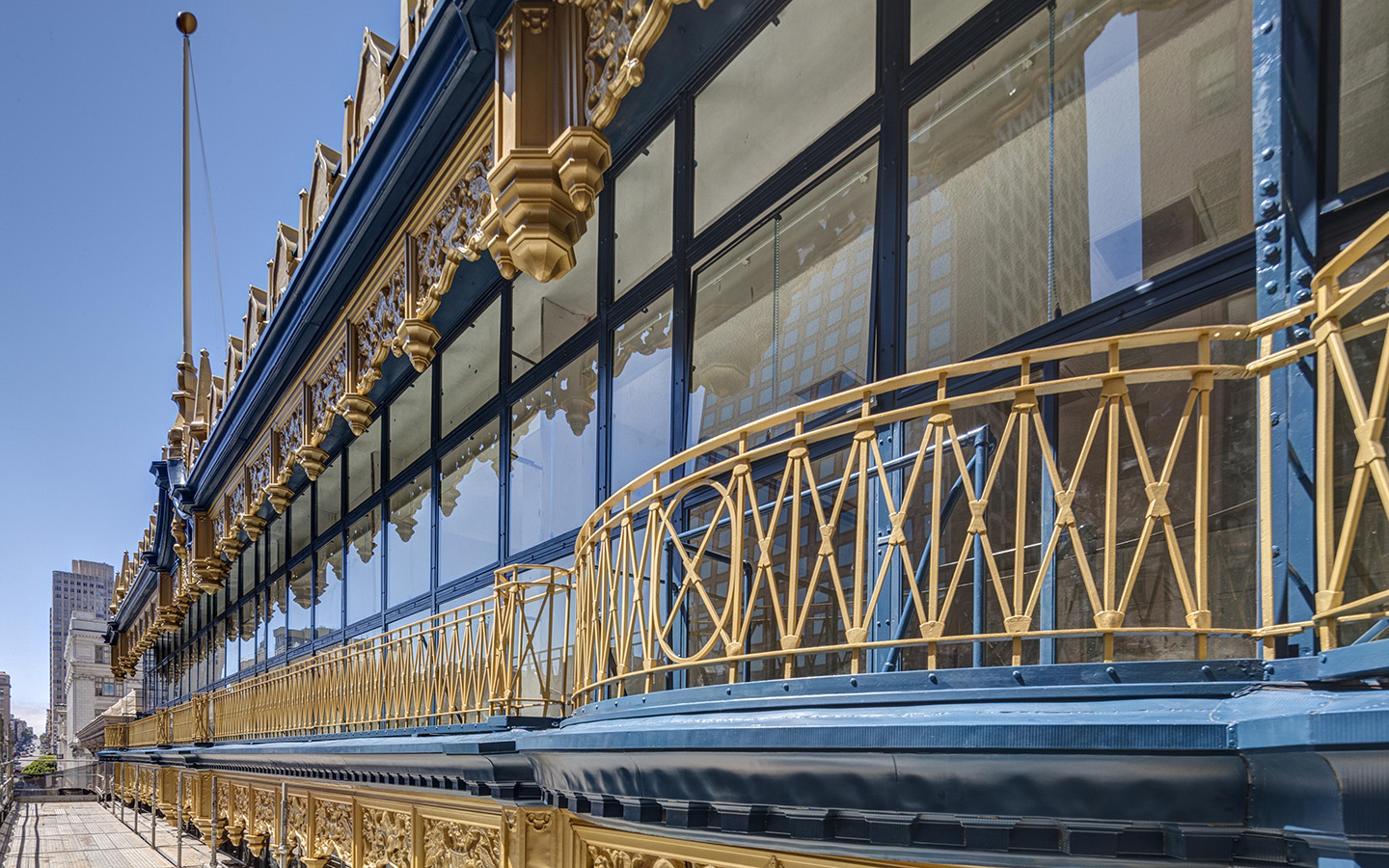 News, Awards & Publications
Page & Turnbull produces award-winning and noteworthy architectural and planning work. Projects, awards and major firm news appear in publications nationwide and across the web.
Page & Turnbull was recently awarded William C. Ralston Award from the San Francisco Museum and Historical Society in recognition of decades of committed and talented architectural work towards preservation of the Bay Area.

= indicates an award received
2017
| | |
| --- | --- |
| Preservation Award, Los Angeles Conservancy | SurveyLA |
|  City of Pasadena Historic Preservation Award | 221 North Raymond Avenue/Fannie Bonham Rowhouses |
2016
| | |
| --- | --- |
|  Building Design + Construction Magazine – "Reconstruction Awards: The Masonic Temple" | Glendale Masonic Temple with Gensler |
| Sacramento Business Journal – "Best Real Estate Projects: Sacramento Valley Station" | Sacramento Valley Station Depot |
| Excellence in Structural Engineering Award, Structural Engineers Association of Southern California (SEAOSC) | Glendale Masonic Temple with Gensler |
| Top Ten Project Award, AIA Committee on the Environment (COTE) | Exploratorium at Pier 15 with ehdd |
| Interior Architecture Citation Award with Social Responsibility, AIA San Francisco Chapter | The Strand, American Conservatory Theater (A.C.T.) with SOM |
| Excellence in Architecture for Rehabilitation, Restoration or Preservation, Honorable Mention, SCUP/AIA-CAE | Hoover Pavilion with Tom Eliot Fisch |
| The North Coast Journal – "Carsonomics" | Carson Block Building |
| The North Coast Journal – "Witness Marks: The Carson Block Building Restored" | Carson Block Building |
| Bay Area Real Estate Deals of the Year Award, San Francisco Business Times | Berkeley Art Museum & Pacific Film Archive |
| Bay Area Real Estate Deals of the Year Award, San Francisco Business Times | 888 Brannan |
| Bronze Award, Los Angeles Business Journal Commercial Real Estate Awards | Glendale Masonic Temple with Gensler |
| Public Works Project of Year, Placer County Contractors Association | Martial Cottle Park |
| Award of Excellence, California Park & Recreation Society | Martial Cottle Park |
| Institute Honor Award for Interior Architecture, AIA National | The Strand, American Conservatory Theater (A.C.T.) with SOM |
| Western Roofing Insulation and Siding – "Replicating Historical Tile: Reroof at Hearst Castle in San Simeon, California" | Hearst Castle |
2015
| | |
| --- | --- |
| Architectural Record – "In Focus: The Strand Theater" | The Strand, American Conservatory Theater (A.C.T.) with SOM |
| Sacramento Bee – "Grand piece of Sacramento civic art has come back to life" | Sacramento Valley Station Depot |
| American Concrete Institute Northern California and Western Nevada Chapter, Award for Architecture | The Strand, American Conservatory Theater (A.C.T.) with SOM |
| Interior Design – "ACT's New Satellite Theater by SOM Steals the Show" | The Strand, American Conservatory Theater (A.C.T.) with SOM |
| Times Standard – "Carson Block Building renovation approaches completion" | Carson Block Building |
| Preservation Magazine – "Ahead of Her Time: California Icon Julia Morgan" | Page & Turnbull's involvement in the restoration of two Julia Morgan masterpieces |
| Community Alliance Revitalization Award, AIA San Francisco Chapter | The Strand, American Conservatory Theater (A.C.T.) with SOM |
| Award of Merit for Planning Best Practices, American Planning Association | West Hollywood West Overlay District and Design Guidelines |
| Merit Award for Historic Preservation, AIA San Francisco Chapter | 140 New Montgomery with Perkins & Will |
| Merit Award for Historic Preservation, AIA San Francisco Chapter | Federal Building at 50 United Nations Plaza |
| Sustainability Commendation, AIA San Francisco Chapter | Exploratorium at Pier 15 with ehdd |
| Honor Award, AIA San Francisco Chapter | Palega Recreation Center |
| Best Rehabilitation/Renovation, San Francisco Business Times Real Estate Deals of the Year | Market Square/1355 Market Street with RMW Architects |
| Sacramento Bee – "Historic downtown train depot mural getting a major face-lift" | Sacramento Valley Station Depot |
| CREWSF The View – "Out with the New, In with the Renewed: Why Tech Companies are Moving Their Headquarters into Renovated Historic Buildings" | Article on redevelopment by Debbie Leifer & Lada Kocherovsky |
| Sacramento Bee – "Sacramento overhauling vintage train station" | Sacramento Valley Station Depot |
2014
| | |
| --- | --- |
| Clemson University Architecture Alumni Achievement Award for 2014 | H. Ruth Todd, FAIA, LEED AP, AICP, Principal |
| Curbed – "Inside SOM's Renovation of Mid-Market's Strand Theater" | The Strand, American Conservatory Theater (A.C.T.) with SOM |
| Governor's Historic Preservation Award, Office of Historic Preservation, California State Parks | 140 New Montgomery with Perkins & Will |
| Governor's Historic Preservation Award, Office of Historic Preservation, California State Parks | Hallidie Building/130 Sutter Street with McGinnis Chen Associates |
| Honor Award for Energy & Sustainability, AIA San Francisco Chapter | Exploratorium at Pier 15 with ehdd |
| Merit Award for Historic Preservation, AIA San Francisco Chapter | Hallidie Building/130 Sutter Street with McGinnis Chen Associates |
| Building Design + Construction Reconstruction Awards, Gold Award | Exploratorium at Pier 15 with ehdd |
| Engineering News-Record California Best Renovation/Restoration Project | 140 New Montgomery with Perkins & Will |
| Preservation Design Award, California Preservation Foundation | Hallidie Building/130 Sutter Street with McGinnis Chen Associates |
| Preservation Design Award, California Preservation Foundation | Exploratorium at Pier 15 with ehdd |
| Preservation Design Award, California Preservation Foundation | 140 New Montgomery with Perkins & Will |
| Preservation Design Award, California Preservation Foundation | 50 United Nations Plaza |
| Los Angeles Times – "From kit house to Spanish Colonial Revival in South Pasadena" | Chun Residence |
| Merit Award for Historic Preservation, AIA San Francisco Chapter | Hallidie Building/130 Sutter Street with McGinnis Chen Associates |
| Honor Award for Energy & Sustainability, AIA San Francisco Chapter | Exploratorium at Pier 15 with ehdd |
| Retrofit Magazine – "Thoughtful Renovations Reignite Asilomar's Hearst Social Hall and Crocker Dining Hall" | Asilomar Conference Grounds |
| Federal Building Challenge Award | 50 United Nations Plaza |
| San Francisco Chronicle – "'Gateway to the Presidio' entertaining suitors" | Gateway to the Presidio with James Corner Field Operations |
| Monterey Herald – "Old Salinas jail: What to do with crumbling historic building" | Old Salinas Jail Feasibility Study |
| Hewn And Hammered – Asilomar Restored! | Asilomar Conference Grounds |
| San Francisco Chronicle – "How a Classic SF building was Resurrected" | 140 New Montgomery with Perkins & Will |
| Arch News Now – "You Get Learning units for This? A Weekend at the Monterey Design Conference" | Asilomar Conference Grounds |
| The Atlantic – "A 26-Story History of San Francisco" | 140 New Montgomery with Perkins & Will |
| Architectural Record – "Urban Game Changer" | Market Square/1355 Market Street with RMW Architects |
| Architect's Newspaper – "A Future for the Past: Three Case Studies of Transformative Retrofits" | Market Square/1355 Market Street with RMW Architects |
| The SF Registry – "Seeking Equilibrium & Consensus" | Profile of Jay Turnbull, FAIA |
| arcCA – AIA California Council – "Environmental upgrades at the Antelope Valley Indian Museum" | Antelope Valley Indian Museum |
2013
2012
2011
| | |
| --- | --- |
| Traditional Building – "Thoroughly Modern Preservation Practice" | Profile of Page & Turnbull |
| State of California Governor's Historic Preservation Award | Presidio Public Health Service Hospital District, Presidio of San Francisco, with Perkins & Will |
| State of California Governor's Historic Preservation Award | Public Health Services Hospital, Presidio of San Francisco, with Perkins & Will |
| Architect's Newspaper – "Once Rescued, Now Lost" | Antelope Valley Indian Museum |
| Napa County Landmarks Award of Merit in Cultural Resource Studies | Downtown Napa Historic Context Statement & Survey |
| Preservation Design Award, Archaeological & Interpretive Exhibits Category, California Preservation Foundation | Sacramento Raised Streets, Hollow Sidewalks Survey |
| Project of Year Award for Historic Restoration / Preservation, American Public Works Association | Sacramento Raised Streets, Hollow Sidewalks Survey |
| Preservation Award, Los Angeles Conservancy | Antelope Valley Indian Museum |
| Preservation Design Award, California Preservation Foundation | Antelope Valley Indian Museum |
| Preservation Design Award, Cultural Resource Studies / Reports Category, California Preservation Foundation | City of Benicia Historic Context Statement |
| Preservation Design Award, California Preservation Foundation | Public Health Services Hospital, Presidio of San Francisco, with Perkins & Will |
| Honor Award for Historic Preservation and Innovation in Rehabilitation, AIA San Francisco Chapter | Public Health Services Hospital, Presidio of San Francisco, with Perkins & Will |
| Building Design + Construction Magazine Reconstruction Gold Award | Public Health Services Hospital, Presidio of San Francisco, with Perkins & Will |
2010
| | |
| --- | --- |
| Traditional Building – "Thoroughly Modern Preservation Practice" | Profile of Page & Turnbull |
| Merit Award for Historic Preservation and Innovation in Rehabilitation, AIA San Francisco Chapter | Piers 1½, 3 and 5 with ehdd |
| Merit Award for Historic Preservation and Innovation in Rehabilitation, AIA San Francisco Chapter | San Francisco Conservatory of Music |
| Merit Award for Historic Preservation and Innovation in Rehabilitation, AIA San Francisco Chapter | Walt Disney Family Museum, Presidio of San Francisco |
| State of California Governor's Historic Preservation Award | Sather Gate and Sather Tower, University of California, Berkeley |
| San Francisco Business Times – "Walt Disney Family Museum" | Walt Disney Family Museum, Presidio of San Francisco |
| Preservation Design Award, California Preservation Foundation | Walt Disney Family Museum, Presidio of San Francisco |
| Award of Merit, Napa County Landmark | Downtown Napa Historic Context Statement & Survey |
| Traditional Building Magazine – "Small Blessings" | Royal Presidio Chapel, Monterey |
| Heritage News – "The Presidio's "Greenest" Neighborhood" | Wyman Avenue Residences Rehabilitation, Presidio of San Francisco |
| Contract Design – "Restoring Fairytales: The Walt Disney Family Museum by Page & Turnbull and Rockwell Group" | Walt Disney Family Museum, Presidio of San Francisco |
| Engineering News-Record California – "Page & Turnbull, Plant Built Walt Disney Family Museum" | Walt Disney Family Museum, Presidio of San Francisco |
2009
| | |
| --- | --- |
| National Preservation Honor Award, National Trust for Historic Preservation | Charleston Preservation Plan |
| Preservation Design Award for Craftsmanship/Preservation Technology, California Preservation Foundation | Royal Presidio Chapel, Monterey |
| Beautification Award, San Francisco Beautiful | Piers 1½, 3 & 5 with ehdd |
| Merit Award for Energy Efficiency Integration, AIA California Council | Friends School, San Francisco |
| Citation Award for Energy + Sustainability, AIA San Francisco Chapter | Friends School, San Francisco |
| Traditional Building – "The Changing Architectural Practice in the Age of Lean"/ | Perspective from John D. Lesak, AIA, FAPT, LEED AP |